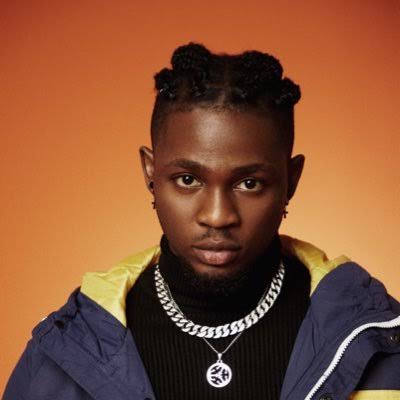 While Music and Entertainment at large as grown, we daily open our ears to possibilities of awesomeness in every bit served in a platter of Gold. If interestingly you find clarity and peace in the presence of good music and rhythm, then be grateful as this is just another beautiful instructive heartwarming sound being introduced to your timeline.
Today I was having a swell time, at this time of the day, I'm always sometimes hyped and sometimes not, especially when I'm pissed, though however today I'm not… maybe dueto the alert I have received couple of minutes ago that is being directed towards eating indomie and chicken, and oh yes that wasn't part the script but you see why Music is such a beautiful thing as such is love and eating that piece of meal you have been craving for.
So at this point while , anticipating my meal which I ordered for, I'm right here listening to a beautiful singer, fast rising pop artiste popularly known as Omah Lay and what a feeling this is.
His Name is Omah Lay, and you might wonder WHO IS OMAH LAY?
In Accordance to a profile on notjustok, Born Stanley Omah Didia, to a family with deep music roots in Port Harcourt, Nigeria. Omah Lay's grandfather was a percussionist for the legendary Highlife singer Celestine Ukwu until his death in 1976. His Dad also took up drumming though didn't reach the heights of his father but he was a local hero.
With no further ado, we can agree that music runs in the family and little no wonder I cant get enough of his rhythm and vibes. Having released 5 Singles which Comprises of Bad Influence, Hello Brother, Do not Disturb, Welcome Party and his official widespread single titled YOU, that has been growing infinitely and finding its way to the top.
Still in doubt of his sound? Then listen to the playlist below
Still in Reference to notjustok, it was stated Omah Lay's music is deeply Afro Fusion – the melody of Wizkid meets the depth of Burna Boy. Omah would always have this to say about his music making process, "I easily weave through Afro genres but the vibe would always hit me first as Highlife, I guess it's hugely due to the my massive highlife exposure growing up in a music family like mine." Omah Lay writes and produces most of his records so it would be accurate to say he owns his sound.
Although complicating and one can argue on the fusion of sound as expressed above… we can definitely agree on the fact that he can Sing.
Be Part of The Critic Circle
Join Us On Our Social Media Platforms
Leave a Comment.
@TheCriticCircle | 08080540041