2020 has been a busy year for Artists from the south side, Benin to be precise. With every month that passes, there seems to be a release of two or more projects from artistes from this region. Today we dive into Emmix' debut project "From the Outset"
Beautiful cover arts always find a way to get me interested in listening to a project, the artwork to this project is one of such cover arts whose beauty is credited to the creative- Xposure Graphics.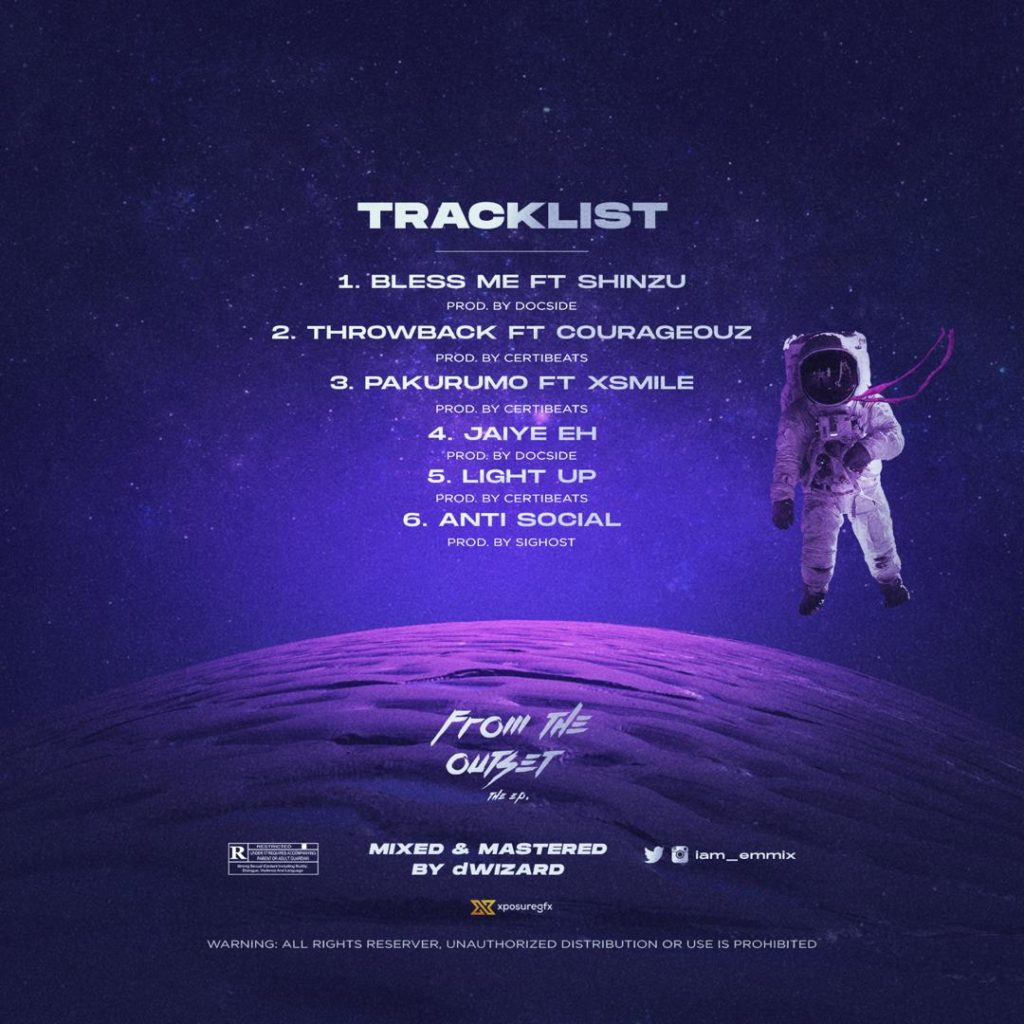 This project opens with a song titled "Bless me" featuring another budding artiste Shinzu. On this track, a beautiful melodious offering is made with both acts singing about their desperation for a breakthrough. The beauty behind this song lies in the relativity of the lyrics accompanied by genius production from Docside Theatres and the beautiful mix and mastering job done by the great mix engineer- Dwizard. This is an early favourite for me.
Track Two: "Throwback" was produced by Certibeats. The intro is very welcoming. The first five kicks from the instrumental set the mood. Emmix sticks to the manual of singing with lyrics that are familiar to the streets, guest artiste "Courageouz" comes in howbeit for a short cameo but delivers so well i wish I'd heard more from him. This song has good and bad sides, it starts with potential, then that potential dies off, then rises again and dies off again…you know like a lady with big bress,small yansh,fine face but pimples😅, leaving you undecided (just permit my analogy).
"Pakurumo"– Here's a fave of mine, i really love this song,it has this disco club vibe, the melody is on point, the beat is sure to get you grooving too. Beautiful! Beautiful song!!
"Jaiye Eh"– Another Docside Theatres Production. Emmix encourages a certain love interest to go ahead and live her life with little or no regard for anyone or thing. Although not an instant favourite for me, it does seem like a song that can grow on me especially when I'm in a mushy mushy mood.
"Light up": A previously released single that was widely accepted, again we see Emmix crooning songs about love and dedication.
The project comes to a close with the song "Antisocial", bearing instrumentals that are quite reminiscent of old school type Beats.
If you listen attentively you'll notice that amidst all the coarseness of Emmix Vocals, there's a lot of brilliance in his lyrics and that has been evident all through his contributions on this project.
A problem I seem to have though, is wishing he engaged us on a wider discuss other than just love with the latter four songs on the EP, i got a little tired and it felt like a one way traffic afterwards, removing one song about love and throwing one more song about hustle in the mix, might have just done the trick of making the tracklisting perfect.
When all is said and done, this writer believes that songs like "Bless Me" and "Pakurumo" off this project would stand the test of time.
Review/article by your favourite guy Ogbeni_Shinzu
Proofread and Editted by Elile Favour.
Be Part of The Critic Circle
Join Us On Our Social Media Platforms
Leave a Comment.
@TheCriticCircle | 08080540041