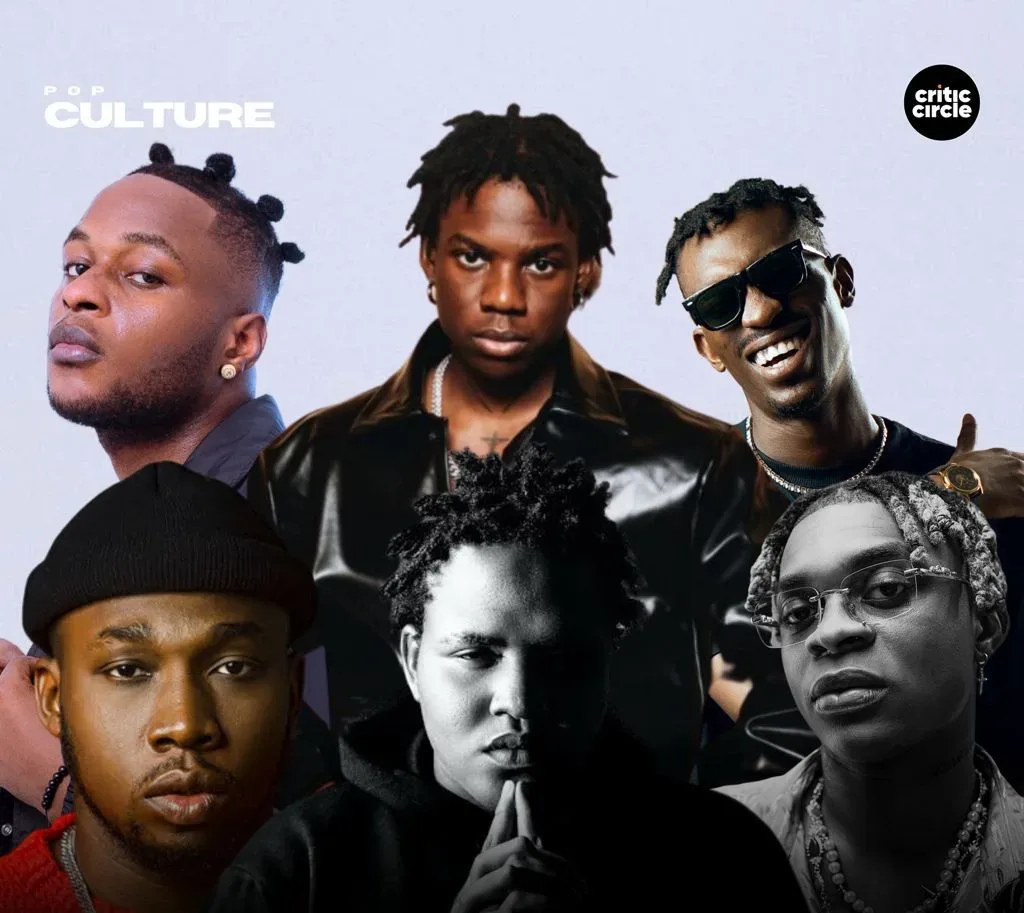 Benin City, popularly referred to as B-Side (By Pop Culture Creatives), is the dynamic capital of Edo State, Nigeria, and has recently emerged as an emerging epicentre for entertainment and cultural growth.
The city has been a fertile environment for brilliant individuals to display their skills and make an impact in the industry, thanks to its rich history, artistic tradition, and expanding music scene.
The spectacular artist Rema is leading this trend, and his deep connection to his community has served as an inspiration to other aspiring artiste(s). Today, we shed a light on Benin City's entertainment landscape, societal development, and a roster of bright performers destined to fascinate the world.
Benin City has experienced an entertainment renaissance, with a wave of exceptional talents rising to prominence. Rema, the prodigious Afro Pop sensation, has undoubtedly been at the forefront of this cultural resurgence. His meteoric rise to stardom has not only brought global recognition to Benin City but has also inspired a new generation of artists to embrace their roots and push boundaries.
Rema's Affiliation to Benin City:
Rema's unwavering love and support for his hometown, often referred to as Benin, cannot be overstated as he has often shared these outlook in his music, interviews, and social media presence. He proudly represents and highlights its vibrant artistic potential. By leveraging his success, Rema has become a catalyst for change, encouraging other artists to embrace their unique backgrounds and create a distinct artistic identity. His journey serves as a testament to the wealth of talent that resides within the city's boundaries.
Emerging Artiste(s) from B-Side:
Although Rema has garnered significant attention, Benin City, otherwise is home to a multitude of exceptional talents deserving recognition. These rising stars, each with their unique sound and style, are shaping the city's entertainment landscape.
In No Particular Order, Let's Take A Closer Look At Some Of The Remarkable Individuals Who Deserve Your Attention:
Harrison Ogedegbe, popularly known as Harry Carter or Carterstrophy, is a Nigerian artist who has gained prominence in the music industry. Known for his defiant and exciting style, to name a few, he has released a number of notable songs, including "C'estlaville." "Stayed Up," "Hold Me Down," "Myself," and his most recent record, "Carry Me Go,". These tracks showcase his versatility and ability to seamlessly blend genres.
In addition to his individual songs, Harry Carter has also worked on projects that have garnered attention. Two noteworthy projects in his discography include "Carterlyst" and "Carterstrophy." These projects demonstrate his dedication to creating cohesive bodies of work that showcase his artistic vision.
Known for his conscious and versatile approach, Harry Carter, the rapper and singer, showcases his lyrical dexterity through thought-provoking rap verses. His ability to seamlessly navigate between hip-hop, trap, and contemporary Afrobeat genres is a testament to his artistic versatility.
This young Afroswing artiste is making waves with his catchy lyrics and infectious melodies. Favi's distinct voice and musical prowess have earned him a growing fanbase, catapulting him to the forefront of the Nigerian music scene.
With Records such as Crime, Still Broke and B-Side Niggas, Favi has been considered a star influence to his own kind, relieving the star template and earning a good following in supporters, fans, music listeners and enthusiast who look forward to listen, love, criticize and enjoy his music.
Adams Odosa Igbinidu, also known as Adam Srae is an Independent Recording Artist, Singer and Songwriter from Benin City, Nigeria. He is known for the innate ability to thrill listeners with his melodious voice resonating with emotions and a deep texture shrouded in thoughtful lyrics.
He has previously opened for some top Nigerian artists like Johnny Drille, DJ Spinall, Falz, Ric Hassani, and Rema.
With his soulful R&B vocals and captivating song writing, Adam Srae weaves melodic tales that resonate deeply with listeners. His ability to evoke emotions through his music sets him apart as a promising artist to watch.
With a fusion of afrobeat and contemporary sounds, Reezybag brings a unique flavour to the music scene. His charismatic delivery and infectious energy have made him a crowd favourite, leaving audiences yearning for more.
With a catalogue insane enough to stand ten toes against your favourite rapper, Reezybag easily dominates his aura and introduces his camouflage interest in being not just the most favourite but also one of the most loved artiste around the city.
Having kickstarted his career chase a while back, putting out a series of singles such as 'Doings', 'Breathe', and 'Tonight' and his most recent project, OASIS. Owas Godstime Ogieva, most popularly known as Owizzy a pro recording and performing artiste from Benin City, is one to definitely watch out for.
This rising star captivates listeners with his infectious hooks and dynamic flow. His ability to blend afrobeat, dancehall, and hip-hop elements creates a distinct sonic experience that sets him apart from the crowd.
Sameer, professionally known as El Corizo, is a rapidly emerging hip-hop singer, rapper, and songwriter hailing from Lagos, Nigeria. With his undeniable talent and unique style, he quickly garnered attention in the music industry. El Corizo shot to fame with his smash hit single, "Run Am For Us," which soared to the top of numerous music charts across Africa. His music resonates deeply with the younger generation, cementing his status as a highly talented artist making waves in the industry.
Rex Borz is a Nigerian hip-hop artist known for his emotive and lyrically-driven music. With a distinct style and melodic hip-hop elements, he has established a powerful presence in the industry. Renowned for his technical talents, flair, and delivery, Rex Borz continues to fascinate fans with his captivating music.
Dr Karmma is a talented singer, songwriter, and audio engineer from Uyo, Akwa Ibom State, Nigeria. His music blends Afro Fusion with elements of Alternative, Hip-Hop, and Dancehall. With collaborations alongside rising stars and performances alongside established artists, Dr Karmma is making a mark in the industry.
SabiBoy Magiq, born Ogaga Ebakivie, is a talented Afrofusion singer and songwriter, currently residing in Benin City. With his recent project titled "SabiBoy Magiq," he has been gaining recognition and establishing a remarkable reputation in the music industry. Notably, tracks like "Sorry" and "Lose You" have showcased SabBiy Magiq's exceptional musical abilities and have further contributed to his growing acclaim.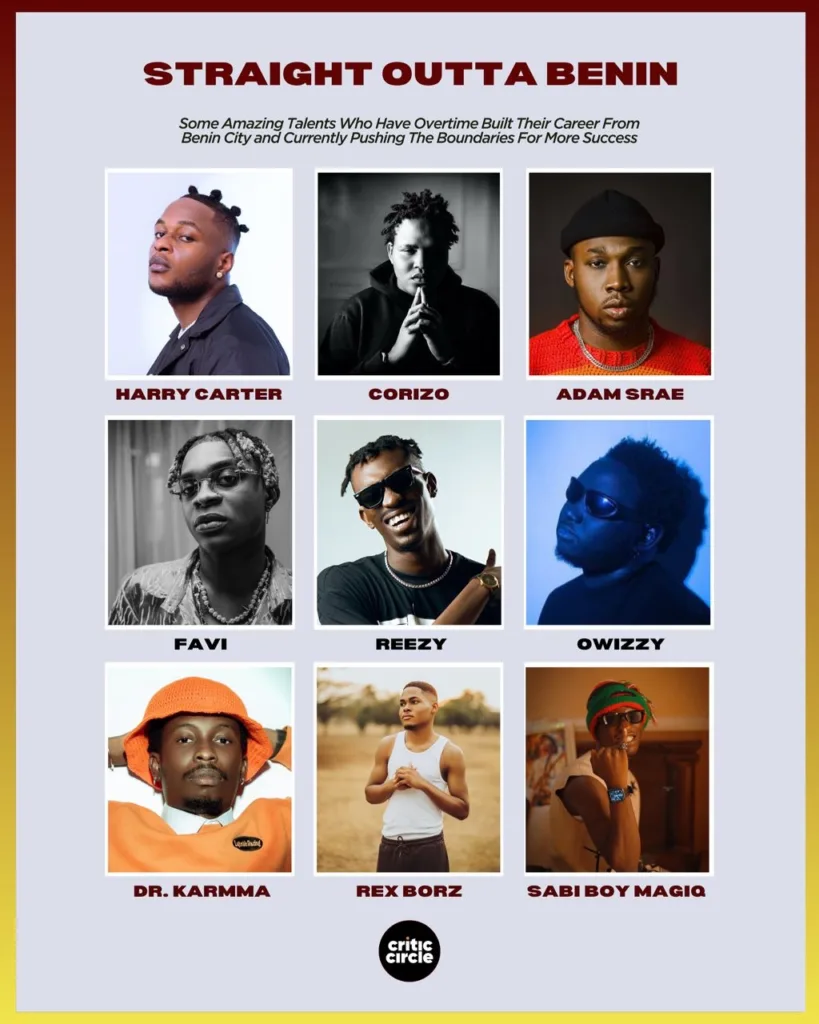 Benin City is not only a rising hub of entertainment and cultural growth but a testament to the immense talent that Nigeria has to offer.
With artists like Rema paving the way, B-Side's vibrant music scene is producing remarkable talents.
As these artists continue to shape the future of Nigerian music, Benin City (B-Side) will undoubtedly leave an indelible mark on the global stage, solidifying its position as a powerhouse of creativity and cultural significance.