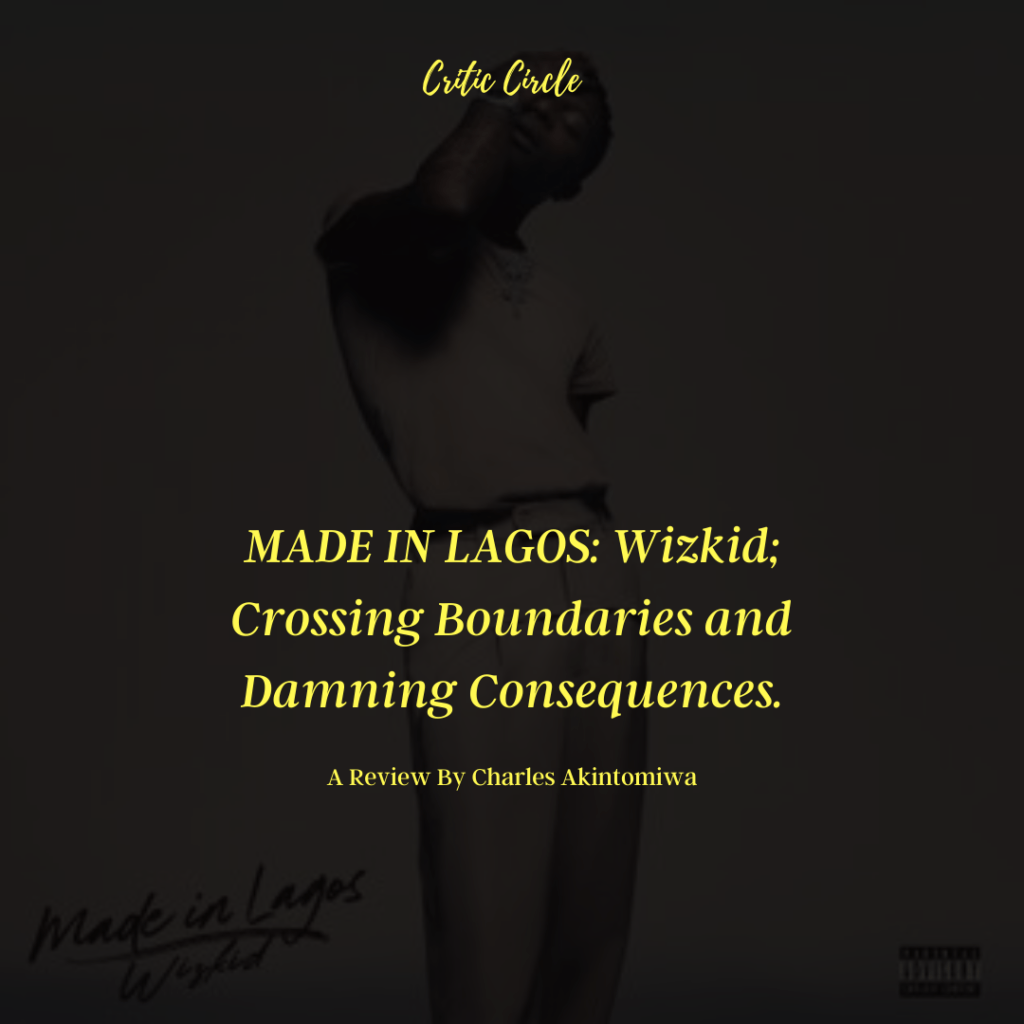 It's been thirteen days. Thirteen days of auditory wedlock with the Made In Lagos album; attentive to each track on the album and listening without bias, prejudgement or prejudice. 
Till I reached eargasm*, after each listen, I uncover a better feel of every line, verse, bridge and chorus, and contrary to what minority consumers say, the project is a MASTERPIECE.
True, Made in Lagos is that project.
In football parlance, the project is likable to that big money "goal machine" striker your club has been chasing for years and after much wait, he's finally landed and is now enjoying playing time, but opposed to banging in goals, as he's widely revered for, he's making assists.
"This isn't what we bargained for," a faction of listeners have sounded off. This has resulted into some social media uproar among fans and naysayers.
To the average Nigerian whose taste in music is resolute, how dare Wizkid explore? Why didn't he give us the old Wizkid? How dare he grow? 
Prior to this album, one could even deduce that his prior surprise project, the "Soundman" EP, released towards the end of last year, was an hypothesis; the 30year old was simply weighing his chances, dipping his feet in deep waters and lurking to see if his scores of consumers embrace a different and unusual appeal.
With little or no PR push whatsoever, a good number gave their ears, statistically speaking. This must be, in my opinion, the catalyst for his adventurous decision.
Admirably, again, he decides to take the road less travelled and present such body of work. Quite ballsy, I must say. And now, It is paying off.
Shutting off baseless "replay value" doubts, the streaming numbers of the MIL album across platforms have been unbelievable, for a project released only a fortnight ago.
Per stats, the project is crossing continents and climbing charts, smashing previously set records and setting new ones. How else can you describe a successful album ?
For the most of the album, without looking back, the man waved goodbye and left the shores of Nigeria and her populace's unending quest for pacy, groovy tunes, tilting fearlessly towards the much excoriated steady soulful sensual melodies.
He is obviously intentional about his musical transition, damning the consequences and being "Reckless" about opinions and hearsay— the title of the first track off the album, just about confirms that position.
Be it the Nigerian melodies or patois-influxed Caribbean tunes, on lone renditions or features, the superintendent of the ever-supportive-yet- pugnacious Wizkid FC army delivered gracefully, while joining forces with other amazing acts who delivered just as smooth vocals.
Tay Iwar and Projexx delivered delicious melodies on "True Love" while the adorable Tems did vocal justice to "Essence."
Ella Mai on "Piece of me" cloaked the tune with lyrics on passions and yearnings of the soul and body.
On the addictive "Smile," H.E.R uses her magic wand, turning a dope song into a feel good duet while Label mate, young sensation and Wizkid's protege, Terri, snapped on "Roma," almost owning, in my opinion, the grooviest tune on the project.
In the league of the big boys, Big chief skeppy almost regurgitated similar rhythmic volubility as the recent UK gold-certified tune— "Bad Energy."
On "Ginger," African Giant Burna Boy served on this track with his signature tune, this time with clear intention of bodying his pal.
In the upper, upper echelon, the legendary Damian "Junior Gong" Marley donned a cap on "Blessed," counting his many blessings and asserting his gratitude for his life and loved ones.
Taking a cue from one of the most anticipated tracks graced by the junior gong, the Made In Lagos album is one for "no hesitation..and…no reservation."
Ayodeji Ibrahim Balogun has paid his dues, studied the greats, honed his vocal prowess over the years and crossed musical barricades. Now he's "go(ne) for the big leagues" and with such dexterity and audacity as exuded on the project, you'd agree that there's "no relegation" in the nearest future. 
Listen To Made In Lagos If You Haven't Yet.
Source – OShinzu
Be Part of The Critic Circle
Join Us On Our Social Media Platforms
Leave a Comment.
@TheCriticCircle | 08080540041